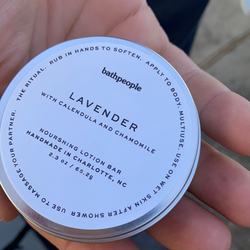 Bath People
Lavender Lotion Bar
Toss the liquid lotion and trade it for this chemical-less, butter filled solid lotion bar. This solid lotion does not contain bees wax so it won't leave you with that waxy film, but instead it will soak completely into your dry skin while hydrating you with Cocoa Butter, Mango Butter and Organic Sunflower Oil. 
Our Lavender bar is infused with calendula and chamomile, known for soothing many skin aliments and the soft smell of Bulgarian lavender essential oil, making it a safe choice for all skin types!
Don't knock it til' you try it!
How to use
Use how you choose! Use on wet skin right after a shower, as a massage bar or just on your hands and body throughout the day when they're dry! Just don't leave me in the heat! I melt at body temperature!